Decision of the council C(2001)107/Final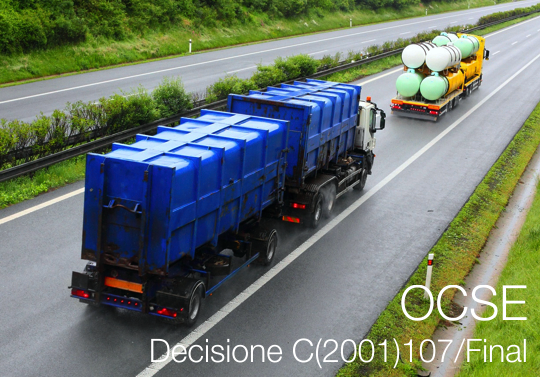 Decision of the council C(2001)107/Final
Consolidate text 2004
Decision of the council C(2001)107/Final concerning the control of transboundary movements of wastes destined for recovery operations, as amended by C(2004)20
For reasons of simplicity and convenience, this document consolidates the two following official documents:
1- the text of the original Decision C(2001)107/FINAL, adopted by the OECD Council in 2002,
and
2- the text of the amendments made to Appendices 3 and 4 of Decision C(2001)107/FINAL, i.e. document C(2004)20 which was submitted to Council for information in March 2004.
These amendments, which came into force on 20 November 2003, have been adopted by OECD Member countries in accordance with the provisions of Article 3, Section B, Chapter II of C(2001)107/FINAL, which states that amendments made to the "Basel lists" of wastes will be incorporated into the "OECD lists"of wastes if there is no objection. Since no objection has been raised from OECD Member countries about the incorporation of the Basel amendments adopted at the 6th Meeting of the Conference of the Parties, these amendments have been transposed into Appendices 3 and 4 (OECD Green and Amber lists of wastes) of the OECD Decision.
REVISION OF COUNCIL DECISION C(92)39/FINAL
CHAPTER I
CHAPTER II
A. DEFINITIONS
B. GENERAL PROVISIONS
(1) Conditions
(2) Control Procedures
(3) Procedure for Amendments to the Lists of Wastes in Appendices 3 and 4
(4) Provision for Specific National Control
(5) Information Requirements
(6) Wastes not Listed in Appendices 3 or 4 to this Decision
(7) Generator of Mixed or Transformed Waste
(8) Procedures for Mixtures of Wastes
C. GREEN CONTROL PROCEDURE
D. AMBER CONTROL PROCEDURE
(1) Conditions
(2) Functioning of the Amber Control Procedure:
Case 1: Individual transboundary movements of wastes or multiple shipments to a recovery facility
Case 2: Transboundary movements of wastes to pre-consented recovery facilities
(3) Duty to Return or Re-export Wastes Subject to the Amber Control Procedure
(4) Duty to Return Wastes Subject to the Amber Control Procedure from a Country of Transit
(5) Provisions Relating to Recognised Traders
(6) Provisions Relating to Exchange (R12) and Accumulation (R13) Operations
APPENDIX 1: CATEGORIES OF WASTES TO BE CONTROLLED
APPENDIX 2: LIST OF HAZARDOUS CHARACTERISTICS
APPENDIX 3: LIST OF WASTES SUBJECT TO THE GREEN CONTROL PROCEDURE
APPENDIX 4: LIST OF WASTES SUBJECT TO THE AMBER CONTROL PROCEDURE
APPENDIX 5.A: DISPOSAL OPERATIONS
APPENDIX 5.B: RECOVERY OPERATIONS
APPENDIX 6: CRITERIA FOR THE OECD RISK-BASED APPROACH
APPENDIX 7: PRACTICAL INFORMATION TO BE PROVIDED BY MEMBER COUNTRIES
APPENDIX 8: NOTIFICATION AND MOVEMENT DOCUMENTS
Collegati


Tags: Ambiente Rifiuti Abbonati Ambiente