Interim evaluation of the Low Voltage Directive 2014/35/EU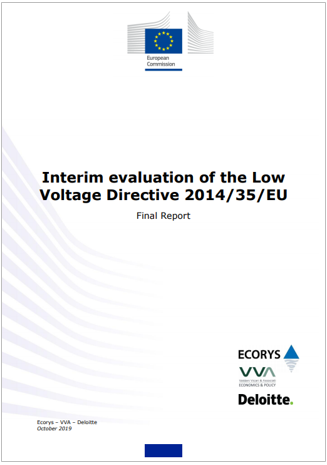 Interim evaluation of the Low Voltage Directive 2014/35/EU
The first Low Voltage Directive (LVD), Council Directive 73/23/EEC, was adopted in 1973 as one of the European Union's first product harmonisation directives. It introduced the obligation to ensure that electrical equipment placed on the market is safe, which is still the core of the Directive today.
No fundamental evaluation or impact assessment has been carried out prior to adopting the most recent version. The scope of this evaluation covers the functioning of the LVD including monitoring of the implementation as well as it will cover the operation of the conformity assessment. The primary objective is to evaluate the degree to which the Low Voltage Directive 2014/35/EU (LVD) has achieved its original objectives as regards effectiveness, efficiency, coherence, relevance and EU added value.
Structure of the document
This deliverable constitutes the Final Report of the interim evaluation of the Low Voltage Directive 2014/35/EU (LVD) carried out by Ecorys, VVA and Deloitte for the European Commission, Directorate-General for Internal market, Industry, Entrepreneurship and SMEs (DG GROW).
The report is structured as follows:
- Chapter 1 presents the synopsis of the different consultation activities conducted for the evaluation;
- Chapter 2 provides an overview of the context of the evaluation, including the policy background for the LVD as well as an analysis of the low voltage product market;
- Chapter 3 presents the findings related to each evaluation criteria as well as the answers to the evaluation questions;
- Chapter 4 concludes the report by summarising the key elements related to each evaluation criteria.
As Annexes we present (in a separate volume):
A. LIST OF ABBREVIATIONS
B. EVALUATION QUESTIONS
C. DESK RESEARCH
D. INTERVIEW QUESTIONNAIRES
E. LIST OF INTERVIEWS
F. STAKEHOLDER SURVEY QUESTIONNAIRE
G. STAKEHOLDER SURVEY ANALYSIS
H. OPEN PUBLIC CONSULTATION QUESTIONNAIRE
I. OPEN PUBLIC CONSULTATION ANALYSIS
J. WORKSHOP AGENDA AND ATTENDEES
K. WORKSHOP REPORT
L. SCORING CALCULATIONS FOR COSTS AND BENEFITS
M. NATIONAL TRANSPOSITION MEASURES
N. MARKET DATA
O. MARKET SURVEILLANCE RESOURCES IN FIELDWORK COUNTRIES
P. ELECTRICAL EQUIPMENT IN THIRD COUNTRIES
...
Fonte: EU
Collegati: