Practical guidance for the purchase of pre-owned mewp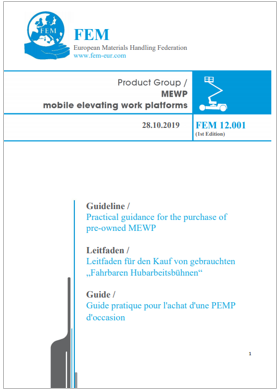 Practical guidance for the purchase of pre-owned mewp
FEM, 30.10.2019
Mobile Elevating Work Platform (MEWP) are a very safe way of working at height as well as being cost efficient.
This guidance will help to avoid costly and potentially dangerous mistakes when buying a pre-owned MEWP through the use of simple precautions.
The quality of pre-owned machines is somehow difficult to evaluate without having a minimum knowledge of its history.
This guide provides clarification and advice to be considered in addition with local and machine model specific requirements.
This guide doesn't apply to pre-owned MEWPs that are subsequently imported into the EU.
_______
Table of contents
1. Introduction
2. Authenticate MEWP Ownership.
3. Only purchase from a reliable source
4. Documentation
5. Examination/inspection findings and operation, both performed by a competent person representing
the purchaser
6. ANNEX I - LOCAL SPECIFIC REQUIREMENTS
...
Fonte: FEM