Evaluation and impact assessment of Directive 2000/14/EC (OND)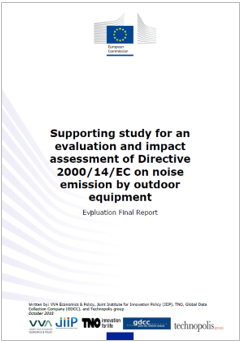 Evaluation and impact assessment of Directive 2000/14/EC (OND)
Evaluation Final report - 05.11.2018
Supporting study for an evaluation and impact assessment of Directive 2000/14/EC on noise emission by outdoor equipment
The objective of this study is to analyse the performance of the Outdoor Noise Emission Directive 2000/14/EC through its evaluation and impact assessment and to examine to what extent it has met its strategic objectives.
The study builds on a significant existing evidence base, as well as primary data collection undertaken via semi-structured interviews, an online survey with Market Surveillance Authorities and Notified Bodies, a company phone survey, and an Open Public Consultation.
The evaluation results show that the Directive has had a positive impact on noise emissions in the EU, being the main driver of noise reduction for the covered equipment. However, noise levels may still be high enough to have negative impacts on citizens' well-being.
The Directive has also prevented the emergence of different national regulations that would have hindered the intra-EU circulation of equipment in its scope. While the EU noise limits are stricter than limits in many third countries, there is no significant identifiable impact on extra-EU trade.
The level playing field is negatively impacted by insufficient market surveillance, which puts compliant manufacturers at a disadvantaged position against their non-compliant competitors.
Overall, the OND proved to be pivotal in the protection of the health and well-being of EU citizens although its application over the year highlighted a few shortcomings.
...
Fonte: EU
Collegati:


Tags: Marcatura CE Direttiva emissione acustica ambientale macchine Abbonati Marcatura CE