Safety in storage, handling and distribution of liquid hydrogen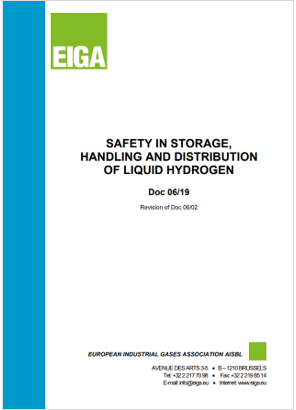 Safety in storage, handling and distribution of liquid hydrogen
EIGA Doc. 06/19
A liquid hydrogen storage installation on a user's premises is defined for the purpose of this publication as the installed liquid storage tank.
This publication applies to the layout, design and operation of fixed storages and the transportation of liquid hydrogen in bulk form by tankers or tank containers, by road, sea and rail, to fixed storages at user's premises.
Portable containers, such as pallet tanks and liquid cylinders, are excluded from the scope of this publication.
_______
Table of Contents
1 Introduction
2 Scope and purpose
2.1 Scope
2.2 Purpose
3 Definitions
3.1 Publications terminology
4 Properties and effects of hydrogen
4.1 General
4.2 Physical properties
4.3 Chemical properties
4.4 Biological effects
4.5 Properties and effects of liquid hydrogen
5 Customer installations
5.1 Layout and design features
5.2 Access to the Installation
5.3 Testing and commissioning
5.4 Decommissioning and removal of tank
5.5 Operations and maintenance
5.6 Customer information
6 Transport and distribution of liquid hydrogen
6.1 Road transport
6.2 Tank container - transport by railway
6.3 Transportation by inland waterways and sea
7 Training and protection of personnel
7.1 Training of personnel (gas supplier and customer)
7.2 Permit to work
8 References
Table 1 Properties of hydrogen and some comparable substances
...
Fonte: EIGA

Tags: Chemicals EIGA Abbonati Chemicals