ECHA | Uses and risks of nanomaterials as pigments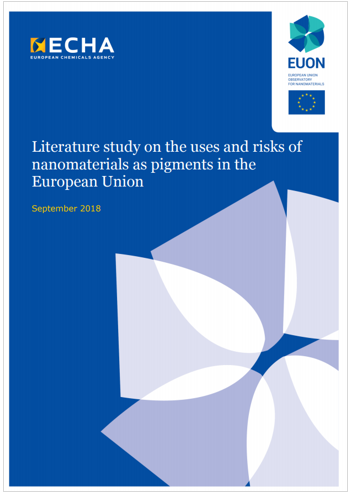 ECHA | Uses and risks of nanomaterials as pigments 
Literature study on the uses and risks of nanomaterials as pigments in the European Union
ECHA September 2018
Lo studio è stato svolto per raccogliere informazioni pubblicamente disponibili sui pigmenti nano-dimensionali identificati presenti sul mercato dell'UE. I risultati mostrano che i rischi di nanopigmenti non possono essere adeguatamente valutati a causa della mancanza di informazioni sull'esposizione, l'assenza di dati tossicologici affidabili e nano-specifici e una generale mancanza di dati di dominio pubblico sui loro usi.
Secondo lo studio, i dati tossicologici disponibili sono spesso incoerenti e i risultati riportati sono spesso contraddittori, ad eccezione di un numero limitato di sostanze ben testate in cui è ancora possibile trarre conclusioni generali. L'imminente revisione dei requisiti di informazione per i nanomateriali registrati nell'ambito di REACH migliorerà la disponibilità dei dati anche per i nanopigmenti.
La relazione formula numerose raccomandazioni per ulteriori lavori, tra cui una maggiore enfasi sulla valutazione e il controllo dell'esposizione, nonché la generazione di scenari di esposizione ben progettati e realistici su particolari nanomateriali per un facile accesso e per l'analisi comparativa di diverse misure di sicurezza.
Parte integrante dello studio era la creazione di un inventario dei pigmenti nano-dimensionali attualmente noti utilizzati nei prodotti di consumo e professionali sul mercato dell'UE.
Per compilare questo inventario, è stata utilizzata una vasta gamma di fonti di dati. Tra questi figurano la banca dati di registrazione REACH, il registro dei prodotti danese e le pubblicazioni degli inventari nazionali belgi e francesi.
77 sostanze sono state identificate definitivamente come pigmenti di dimensioni nanometriche con altri quattro pigmenti di riempimento utilizzati per aumentare il volume e ridurre il costo complessivo dell'inchiostro in cui viene utilizzato il pigmento.
L'inventario contiene 81 sostanze ed è ora disponibile sul sito web di EUON.
________
Table of Contents
ABSTRACT
EXECUTIVE SUMMARY
1. BACKGROUND AND INTRODUCTION
1.1 Terms of reference
1.2 Defining nano-sized pigments
1.2.1 Pigments in the context of current EU Definition of nanomaterials
1.3 Scope and uncertainties relating to the project
2. INVENTORY OF NANO-SIZED PIGMENTS IN THE EU MARKET
2.1 Data Sources Used
2.1.1 ECHA REACH Database
2.1.2 Danish Product Register
2.1.3 French Nano Inventory
2.1.4 Belgian Nano Inventory
2.1.5 Catalogue of nanomaterials used in cosmetic products placed on the EU market
2.1.6 Other sources
2.1.6.1 Voluntary Industry Survey
2.1.6.2 Industry Online Information sources
2.2 Preparation of the Inventory listing
2.3 Inventory mapping the uses of identified nano-sized pigments
2.4 Uses of Nano-sized pigments in Consumer and Professional products
3. PRIMARY LITERATURE REVIEW
3.1 Methodology
3.1.1 Study selection
3.2 Data Quality Review
4. HAZARDS OF NANO-SIZED PIGMENTS
4.1 General Nanoparticle Biokinetics and Toxicity
4.1.1 Oral exposure
4.1.2 Inhalation exposure
4.1.3 Dermal exposure
4.1.4 Other routes
4.1.5 Genotoxicity and Cancer
4.2 Nano-sized Titanium Dioxide (TiO2)
4.3 Nano-sized Carbon Black (CB)
4.4 Nano-sized Zinc Oxide (ZnO)
4.5 Nanosized Barium Sulphate (BaSO4)
4.6 Nano-sized Iron Oxides
4.7 Nano-sized Aluminium Oxides (Al2O3)
4.8 Nano-sized Silica (SiO2)
4.9 Nano-sized Silver (nano-Ag)
4.10 Nano-sized gold (nano-Au)
4.11 Other pigments
4.12 Summary of hazard data on nanomaterials used as pigments
5. EPIDEMIOLOGY OF NANO-SIZED PIGMENTS
6. POTENTIAL EXPOSURE TO NANO-SIZED PIGMENTS FROM CONSUMER AND PROFESSIONAL PRODUCTS
6.1 Summary of published data on exposure
6.2 Summary of published data on Risk Assessment and Management
6.3 Summary of published data on Life Cycle Assessment
7. EXPOSURE SCENARIOS FOR IDENTIFIED USES OF NANO-SIZED PIGMENTS
7.1 Exposure Scenarios from published data
7.1.1 Industrial Scenario 1 – Production of TiO2
7.1.1.1 The calcination process
7.1.1.2 The micronisation process
7.1.1.3 Laboratory testing
7.1.1.4 Other jobs: coating, filtration
7.1.1.5 Packing into large bags
7.1.1.6 Packing into small bags
7.1.1.7 Discussion and general conclusions
7.1.2 Industrial Scenario 2 – Production of Fe2O3
7.1.2.1 Manual screening of powder in an open process
7.1.2.2 Material feeding
7.1.2.3 Packaging process
7.1.2.4 Discussion and general conclusions
7.1.3 Industrial Scenario 3 – Production of printing inks
7.1.3.1 Discussion and general conclusions
7.1.4 Professional Scenario 1 – Use of printing inks - Professional use of photocopiers
7.1.4.1 Discussion and general conclusions
7.2 General recommendations – Industrial and Professional Uses of nano-sized pigments
7.3 Consumer Scenarios
7.3.1 Consumer Scenario 1 – Water-borne acrylic paint and solvent-borne alkyd paint
7.3.1.1 Discussion and general conclusions
7.3.2 Consumer Scenario 2 – Use of printer toner cartridges – emitted nanoparticles
7.3.2.1 Discussion and general conclusions
7.3.3 Consumer Scenario 3 – Exposure through Personal Care Products – sunscreens with TiO2
7.3.3.1 Discussion and general conclusions
7.3.4 Consumer Scenario 4 – Exposure to nano-sized pigments via tattoo inks
7.3.4.1 Discussion and general conclusions
7.4 Generic exposure scenarios
7.4.1 Professional Generic scenarios
7.4.2 Consumer Generic Scenarios
7.4.3 General recommendations related to exposure assessment to nano-pigments
8. CONCLUSIONS ON RISKS PRESENTED BY NANO-SIZED PIGMENTS
9. UNCERTAINTY ANALYSIS
9.1 Uncertainties over the definition of Nano-sized Pigments
9.2 Uncertainties in Hazard Characterisation
9.3 Uncertainties in Exposure Characterisation
10. RECOMMENDATIONS FOR FURTHER WORK
REFERENCES
APPENDIX 1. NANO-SIZED PIGMENTS IDENTIFIED ON THE EU MARKET (APRIL 2018)
APPENDIX 2. MAPPED REACH CONSUMER USES OF IDENTIFIED NANO-SIZED
PIGMENTS
APPENDIX 3. MAPPED REACH PROFESSIONAL USES OF IDENTIFIED NANO-SIZED
PIGMENTS
APPENDIX 4. MASTER LIST OF ALL PIGMENTS AND EXTENDERS/FILLERS IDENTIFIED
FROM ALL SOURCES
APPENDIX 5. PROFESSIONAL EXPOSURE MODELS (STOFFENMANAGER)
APPENDIX 6. LITERATURE SEARCH PROTOCOLS AND STATISTICS
10.1 Search no. 1
10.2 Search No. 2
10.3 Search no. 3
APPENDIX 7. CRITICAL ANALYSIS OF THE COLLECTED DATA
The data quality assessment
Hazard data
Exposure data
Risk assessment data
Life cycle assessment data
Table of Tables
...
Fonte: ECHA