Guidance ECHA SR&D and PPORD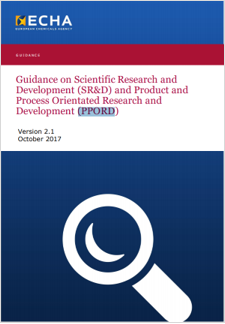 Guidance ECHA SR&D and PPORD
Update 28.11.2017
Traduzione IT
Orientamenti su ricerca e sviluppo scientifici (SR&D) e attività di ricerca e sviluppo orientate ai prodotti e ai processi (PPORD)
Guidance on Scientific Research and Development (SR&D) and Product and Process Orientated Research and Development (PPORD)
Version 2.1 October 2017
This document describes specific provisions under REACH for substances manufactured, imported or used in Scientific Research and Development (SR&D) and Product and Process Orientated Research and Development (PPORD). It is part of a series of guidance documents that are aimed to help all stakeholders with their preparation for fulfilling their obligations under the REACH Regulation.
These documents cover detailed guidance for a range of essential REACH processes as well as for some specific scientific and/or technical methods that industry or authorities need to make use of under REACH.
The guidance documents were originally drafted and discussed within the REACH Implementation Projects (RIPs) led by the European Commission services, involving all stakeholders from Member States, industry and non-governmental organisations. The European Chemicals Agency (ECHA) updates these guidance documents following the Consultation procedure on guidance. These guidance documents can be obtained via the ECHA website.
This document relates to the REACH Regulation (EC) No 1907/2006 of the European Parliament and of the Council of 18 December 2006.
Version 2.1 October 2017 - Corrigendum covering the following:
- Update of the references to ECHA Manuals on preparing REACH and CLP dossiers;
- Section 3.1.6: Update of the text to reflect the full implementation of the CLP Regulation;
- Section 4.1.1: Shortening of the text and replacing the technical instructions with the references to ECHA Manual on preparing registration and PPORD notification dossier;
- Deletion of sub-sections 4.1.1.1 and 4.1.1.2 containing technical instructions on the preparation of the PPORD dossier;
- Section 4.1.2: Change of the section title. Minor clarification regarding the process of invoicing,
completeness check and issuing a notification number;
- Section 4.1.4: Improvement of wording concerning Article 9 provisions;
- Section 5.4: Removal of the redundant text on Validation Assistant plug-in;
- Minor corrections to update hyperlinks and typographical errors.
_________
Table of Contents
1. INTRODUCTION
2. DEFINITIONS
3. TASKS AND OBLIGATIONS
3.1 Substances used in scientific research and development (SR&D)
3.1.1 Absence of obligation to register under REACH
3.1.2 Exemption from authorisation under REACH
3.1.3 Exemption from restrictions under REACH
3.1.4 Classification, labelling and packaging
3.1.5 Notification to the C&L Inventory
3.1.6 Information in the supply chain
3.2 Substances used in product and process orientated research (PPORD)
3.2.1 Exemption from registration obligation for PPORD substances in quantities of 1 tonne per year or more
3.2.1.1 Information that needs to be notified to ECHA in order to benefit from an exemption for PPORD
3.2.2 Authorisation under REACH
3.2.3 Restrictions under REACH
3.2.4 Classification according to CLP
3.2.5 Notification to the C&L Inventory
3.2.6 Information in the supply chain
3.2.7 Downstream use of substances for PPORD
3.2.8 Considerations before making a PPORD notification
3.2.8.1 Deciding whether to submit a notification for use of a substance in PPORD activities that take place outside the EU/EEA and whether to list non-EU/EEA customers
3.2.9 Compliance with conditions imposed by ECHA
4. PPORD NOTIFICATION DOSSIER
4.1 Information requirements
4.1.1 Preparation of the PPORD notification dossier
4.1.2 Invoicing, completeness check and notification number
4.1.3 Fees
4.1.4 When can the manufacture/import of the substance be started?
5. PPORD NOTIFICATION UPDATE FOR NEW INFORMATION
5.1 Change of information or new information available
5.2 Cessation of the PPORD
5.3 Types of PPORD notification updates
5.4 Using IUCLID for PPORD notification update
6. EXTENSION OF THE EXEMPTION FROM THE OBLIGATION TO REGISTER
6.1 Request for an extension
7. REQUEST FOR INFORMATION AND CONDITIONS THAT MAY BE IMPOSED BY ECHA
7.1 Request by ECHA for additional necessary information from a PPORD notifier
7.2 Examples of possible conditions that may be imposed
8. CONFIDENTIALITY
APPENDIX 1: SUMMARY OF THE OBLIGATIONS FOR SUBSTANCES USED IN SR&D AND PPORD
APPENDIX 2: TEXT OF ARTICLE 9 OF REACH
Fonte: ECHA
Correlati:
Tags: Chemicals Reach Guida ECHA