EN ISO 13850:2015 Funzione di arresto di emergenza - File CEM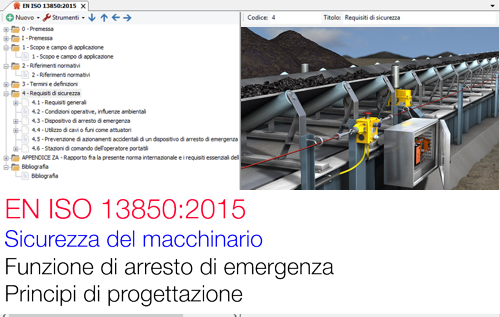 EN ISO 13850:2015 Funzione di arresto di emergenza - File CEM
File CEM importabile in CEM4
EN ISO 13850:2015
Sicurezza del macchinario - Funzione di arresto di emergenza - Principi di progettazione
Norma tecnica di tipo B armonizzata direttiva macchine 2006/42/CE
La presente norma europea fornisce linee guida per garantire che i produttori di macchine forniscano informazioni adeguate sull'applicazione dell'isolamento delle vibrazioni per ridurre i rischi derivanti dalle vibrazioni generate dalle loro macchine. La norma specifica i requisiti di funzionamento e i principi di progettazione per la funzione di arresto di emergenza sul macchinario, indipendentemente dal tipo di energia utilizzata.
...
ISO 13850:2015 Standard specifies functional requirements and design principles for the emergency stop function on machinery, independent of the type of energy used.
It does not deal with functions such as reversal or limitation of motion, deflection of emissions (e.g. radiation, fluids), shielding, braking or disconnecting, which can be part of the emergency stop function.
The requirements for this International Standard apply to all machines, with exception to:
- machines where an emergency stop would not reduce the risk;
- hand-held or hand-operated machines.
NOTE The requirements for the realization of the emergency stop function based on electrical/electronic technology are described in IEC 60204‑1.
File CEM importabile in CEM4 | cem4.eu
Elaborato Certifico S.r.l. 2018
La norma completa in EN è acquistabile al sito di UNI:
http://store.uni.com/catalogo/index.php/en-iso-13850-2015.html
La norma completa in IT è acquistabile al sito di UNI:
http://store.uni.com/catalogo/index.php/uni-en-iso-13850-2015.html?josso_back_to=http://store.uni.com/josso-security-check.php&josso_cmd=login_optional&josso_partnerapp_host=store.uni.com
Documenti collegati:


Tags: Prodotti Certifico File CEM CEM4